SubscriptionBridge = Easy integration with your business
SubscriptionBridge can be integrated with virtually any Web site or ecommerce application
Connecting your business with SubscriptionBridge
You can integrate SubscriptionBridge into pretty much anything that you are already doing on the Web. Regardless of whether that's a simple Web site with pages that simply describe your business, a shopping cart program that you purchased somewhere, or an e-commerce application that you developed in-house.
There are three ways to use SubscriptionBridge:
Hosted payment pages ("simple integration")
SubscriptionBridge API ("advanced integration")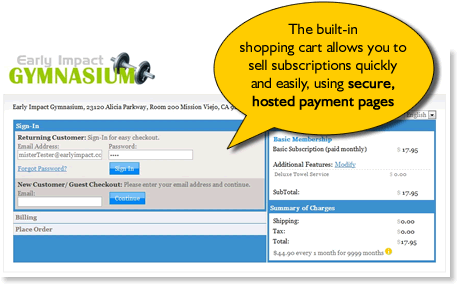 Hosted Payment Pages (or "Simple Integration")
"Simple" not because it's less powerful, but rather because it is really simple to get started.
With SubscriptionBridge, you can sell subscriptions as easily as by adding a "Buy" button to your existing Web pages.
SubscriptionBridge takes care of everything else, using secure payment pages hosted at subscriptionbridge.com, but customizable with your logo.
Integrated Shopping Carts
We want it to be as easy as possible for you to use SubscriptionBridge with your existing shopping cart.
We will gradually release (or let you know if others have released) "ready-to-go" integrations with popular shopping carts. The "ready-to-go" part means that all you have to do is turn it on.
The type and level of integration with SubscriptionBridge features will vary depending on the shopping cart.
Currently integrated shopping carts:
SubscriptionBridge API
Use the robust SubscriptionBridge API to integrate any existing Web application with the SubscriptionBridge engine.
As you integrate your business with SubscriptionBridge, you will have the option of using as much of the pre-built customer interfaces as you like (e.g. the SubscriptionBridge Customer Center).