How SubscriptionBridge works
Automated subscription management on top of robust recurring billing systems
What it does
SubscriptionBridge makes it easier to sell subscription-based products and services, handles recurring payments through robust payment systems, and automates much of the customer service that goes along with running a recurring billing operation.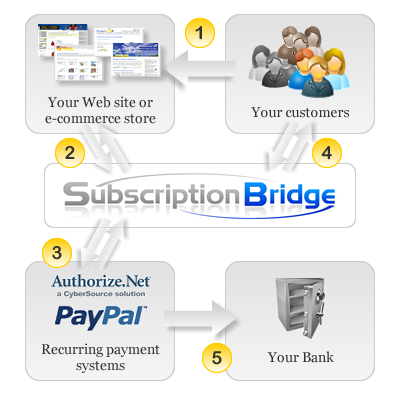 How it all works
Subscription sale. You create a subscription package in the SubscriptionBridge Merchant Center, then make it available for sale in a variety of ways.
Subscription profile. SubscriptionBridge creates a recurring payment profile, and sends notification emails to both you - the merchant - and the customer.
Recurring payments. Depending on the payment system selected, recurring payments are triggered by SB or processed directly by the payment gateway. In both cases, if there is an issue, SB follows up automatically (e.g. if a payment is declined).
Email and API Notifications. SB notifies your customers, automatically, in all sorts of scenarios (expiring trial, payment declined, subscription changes, etc.). It also sends "silent posts" to a Callback URL to let your custom application react to subscription events, if you want to.
How you get paid. Money is transferred to your bank account directly by your payment gateway. SubscriptionBridge is not involved in that step.

Bottom line: happier you, happier customers, lower costs
Happier You
Managing subscriptions can be challenging. You know how fun it is to follow up with customers when a payment did not go through successfully? Not fun at all. So let SubscriptionBridge take care of things for you. View a list of subscription management features.
Happier Customers
Put your customers in control. The feature-rich Customer Center lets them do things like adding an optional features, switching from a trial to a full subscription, upgrading to another subscription package (if available), etc.
Lower costs
Put the two together, and not only you have a happier merchant (that's you!) and happier customers, but also dramatically lower costs. SB allows you to significantly reduce the customer service costs that otherwise would weigh on the subscription-based portion of your business.
Next step